Welcome to the User Home Page. This page is intended for users of interpreters' services.
Why should I use a professional interpreter?
APCI considers it essential that only interpreters with the highest standards of linguistic competence, impartiality and professionalism are used at every stage of the legal process and throughout the public service.
Our policy is that only qualified, experienced, registered and vetted interpreters should be used in legal proceedings.
Our members have agreed to abide by a Code of Conduct which has been lodged with the Office of Fair Trading and contains provisions relating to impartiality and confidentiality required of a Public Service Interpreter.
Our on-line directory is free to use and shows each member's current registration status. In order to begin a search you need to enter the name of the language and the postcode where the interpreter is required. You can also enter a specific level of security clearance, if this is required. The search results will be ranked in order of proximity to the location of the assignment.
All APCI members are issued with a membership card bearing their photo which can be used as proof of their membership and identity. These are valid for one year (see specimen below).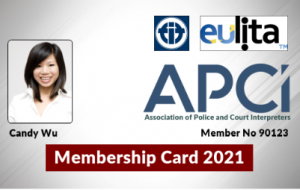 Testimonials
"APCI interpreters are very reliable. Should the firm require an interpreter of any given language they are quick to respond and communicate effectively ensuring that someone can attend. They remain professional with the client always arriving in advance of the conference and are willing to stay longer than necessary in order to meet the client's needs."
Emma Bracewell | Trainee Solicitor Carson Kaye Solicitors